All Stars Pro-Plex Bar ist ein Eiweißriegel mit Schokoladenüberzug
Fakten auf einen Blick:
bis zu 32% hochwertiges Protein!

Wheyprotein-Isolat + Casein!

12 super leckere Geschmäcker!

Idealer Protein-Snack für unterwegs!

Der Pro Plex Bar von All Stars ist ein hochwertiger Proteinriegel der als Riegel zur Proteinversorgung nach dem Training genutzt werden kann.
Als Proteinquellen werden hochwertiges Wheypotein-Isolat und Casein verwendet .
Ideal für unterwegs, bis zu 32% Protein pro Riegel machen den Pro-Plex Bar zur optimalen Proteinquelle für alle die viel unterwegs sind.

Verzehrempfehlung:
Nehmen Sie 1-2 Riegel nach dem Training oder als Zwischenmahlzeit.

Inhalt:
1 Riegel á 35 g

Zutaten:
Milcheiweiß, Invertzuckersirup, Kakaomasse, Zuckersirup, pflanzliches Fett (ungehärtet), Zucker, Hydrolysat aus kollagenem Eiweiß, Feuchthaltemittel (Glycerin), Glukopsesirup.
Kann Spuren von Erdnüssen, Sesam und Nüssen enthalten.



Geschmack Cocos-Ananas + L-Carnitin:
Geschmack Tiramisu:
Geschmack Choco Crunch:
Geschmack Straciatella:
Geschmack Marzipan:
Geschmack Haselnuss:
Geschmack Erdbeer-Joghurt:
Geschmack Cocos:
Geschmack Kirsch-Joghurt:
Geschmack Toffee:
Geschmack Classic:
Geschmack Pfirsich-Aprikose-Joghurt: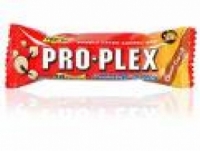 Customers who bought this product also bought the following products:
MSRP 29,90 EUR


your price 23,80 EUR (7 % VAT incl. excl. Shipping costs)
This Product was added to our catalogue on Sunday 27 July, 2014.